Mackenzie Violet Croft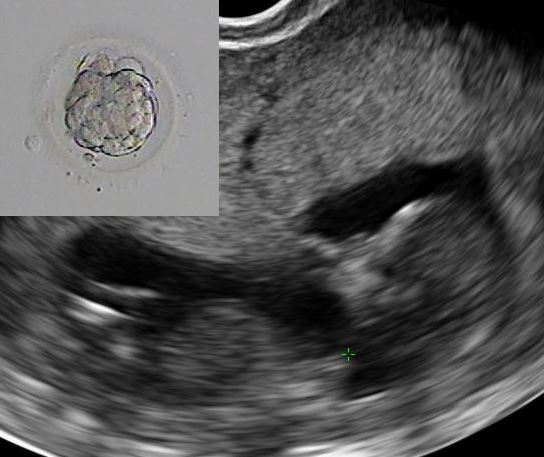 Background
After countless doctor's appointments and lots of stress, on April 19, 2019, a 5 day old blastocyst (
blastoise
? we having a pokemans?) transfer was completed. After 2 weeks of not-so-patient at home tests, our specialist confirmed we were pregnant with our baby girl.
Image
Updates
5/13/2019 - Today was a great day of firsts: We got to have our first ultrasound and heard the baby's heartbeat. Seeing her brought tears to my eyes (and the doctor & nurses).
Image
5/20/2019 - Another Ultrasound
Image
5/29/2019 - Another Ultrasound
Image
6/10/019 - At today's ultrasound, baby was moving around bunches. In the scans, we could clearly see her little lime sized body with little bent legs and hands with fingers.
Image
6/16/2019 (week of) - Had a few scary days with sharp cramps and bleeding. Doctor did a few extra scans and has assured us that baby is fine.
Image
Image
7/15/2019 - Transitioned from IVF specialist to regular OBGYN. Guess it's about time to start putting the birthing plan together... most importantly the mix-tape for the labor & delivery room.
7/21/2019 - Had a weird fainting spell today, but hopefully it was just a combination of heat, fatigue, and low blood pressure. Doctor has encouraged me to stay hydrated and eat plenty of protein.
8/11/2019 - 20 weeks (half way!) into pregnancy so far and loving every minute, even the aches, pains, lack of sleep, and urge to pee constantly. We are so excited to bring this little one into our lives.
8/19/2019 - First over tummy scans to monitor growth in the second trimester. Mackenzie was
VERY
active.
Image
Image
8/28/19 - Felt over the tummy first baby movements (around 11:30 pm). Quite active all of a sudden like a switch being turned on. She was rolling and punching, which is a weird sensation since I didn't experience the normal internal flutter movements.
9/16/2019 - Week 24 scans... Baby Mackenzie moved the whole time again. The ultrasound tech was super patient with us and got 2 very good face pics as well as a great profile pic. Baby loves putting her hands up in front of her face and boxing at the machines. She is a wiggle monster.
Image
Image
Image
9/27/19 - Could visibly see Mackenzie's movements over the belly for the first time. She loves to kick those feet and headbutt my navel. Adam and I both had a 'whoa' moment.
10/14/19 - Look at her head!
Image